This is part two of the discussion Scott Adlerberg and I had on
The Hateful Eight.
Part one is HERE. This half of the conversation is a bit more focused on the details of the film/filmmaking that part one. Enjoy.
Renee: Definitely no pressure going into the second half of this discussion after getting a response from the first!
We covered some heavy stuff, so I'm going to take the opportunity to lighten it up a little. A couple weeks ago I went to see the twentieth anniversary release of From Dusk Till Dawn in theater, and before the movie they did an interview with Tarantino and Robert Rodriguez. My favorite anecdote from that, was Rodriguez saying that while they were shopping at around people kept telling them, "We can't do this, it's two movies in one." After Pulp Fiction came out, they'd take it around and people would say, "Oh this is so great! It's two movies in one!"
I'd venture that Hateful 8 is three movies.
First, you have this act that's very 90s Tarantino. Basically a crime film set after the Civil War. Then you end up in this closed room murder mystery, and then, seemingly out of nowhere it's a horror film. Personally, I loved it. I watched it with my husband who didn't love it as much, but I always thought that Tarantino's films always veered to almost horror. This movie seems to take it to the next level. Of course, if it's a horror movie, then Daisy is the monster, and Warren and Mannix are the final "girls." Scott: How Tarantino plays with narrative and story and chronology has always been one of my very favorite things about him. No exception here, as you say. In this case I read one or two reviews before seeing the film, which I regretted because if you knew nothing going into the movie, the whole Agatha Christie like mystery section would have come as a twist out of left field. I really liked that turn, and that suddenly there's a narrator, who after telling the viewers what they need to know, drops away. Tarantino's not afraid to use whatever technique will work to suit his narrative, conventionality be damned. We shouldn't overlook, too, that the "investigator" during the mystery section, the one using his powers of deduction and questioning the suspects, is Major Warren, so I guess he qualifies as one of cinema's black detectives.
The last section - I hadn't seen it as a horror film, but you're absolutely right. The movie does become that. And that's a great way to put it, where two quite masculine men are the "final girls," the ones who survive the monster's carnage. Great inversion of that trope. And seriously, Tarantino should do a full out horror film one day. He helped do half of one, I realize, with From Dusk Till Dawn. It's a genre he obviously loves and he could make a great one.
Renee: I went in with no spoilers at all, so that moment with the coffee was really great. I saw a few people making a heavy criticism of the narration bit, but I agree with you - it's Tarantino's willingness to do whatever he has to do to tell the story he wants to tell.
And I would kill for a Tarantino horror movie! He's got the gore elements down already. You can see how he gets so close and then backs away in a lot of his films - which is fun because they aren't horror movies, but to see him go all out Kill Bill style "I'm going to do whatever I want with this" would be a spectacle for sure.
My big question, though, and this is more on the fun side than anything else. Do you think Mannix was really the Sheriff of Red Rock? As the movie progresses we learn that almost no one in the room are who they say they are, or at least, aren't there for the reasons they say (exception being Daisy) but we never get a moment where Mannix's truth is laid out cleanly. The only hint is when he says "So you finally believe that I'm the Sheriff of Red Rock," to Major Warren, but Warren dismisses that.
Scott:
Yeah, that is a tough question. I was wondering exactly that myself re-watching the movie the other night. I'd have to say, no, he isn't the sheriff. Partly because, as you've said, it would be consistent with the deceptiveness of everybody there, and finally, he just didn't seem like a sheriff. There's always that wonderful slightly weaselly quality Walton Coggins brings to a role, and if it can be said, he just doesn't carry himself as a sheriff, I felt. At the very least, after the coffee poisoning deaths, you think he'd try to take command of the scene and do the questioning himself. He's awfully passive when Major Warren takes over that role. Did you think he was the sheriff?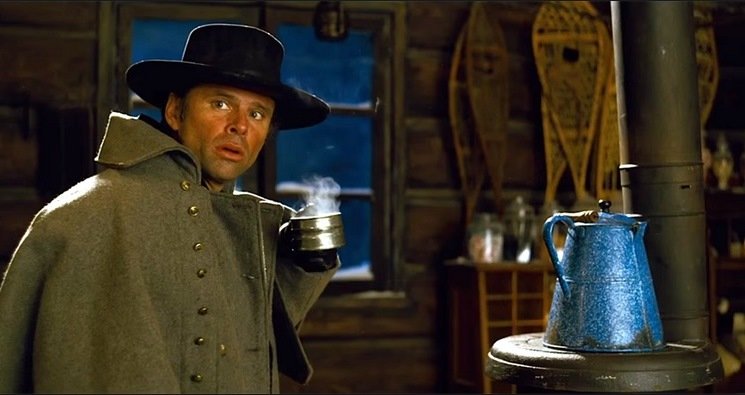 Renee: I really don't know. My first viewing, it didn't really concern me, I was caught up in what was going on, but on the second watch it became a more interesting mystery. If he's lying about being the sheriff, then surely he'd be in hot water once they all arrived, but we never get there, so there's no way to know for certain. I totally bought Tim Roth as the hangman, he seemed to know what he was talking about and had opinions that seemed formed through experience. Then we learn the truth about him, and it does kind of turn everything on it's head. If he's not really the hangman, despite being incredibly knowledgable and opinionated on hangings, then maybe Mannix is the sheriff, despite not acting like a sheriff at all.
I thought it was an interesting way to present a character, especially after everyone else's lies and secrets came to the front. The question was left hanging there, but not in a way that made the viewer feel cheated for an answer.
I think we've proven there are a lot of things in the movie to think on long after the viewing, so this was almost like an Easter Egg - once you've picked apart all the lies and subterfuge, and considered all the issues brought up in the room, there's still something to chew on, even though it's of little consequence.
My assumption is that it was intentional. The last remaining mystery. You also have to consider that the final scene makes a good case that it didn't matter at all who Mannix and Major Warren actually were, in the end they were in the same position and suffering the same fate. They were even able to put aside deep seated differences to bond.
I also question whether Major Warren really met the General's son. He had a clear motivation for telling that story, it fit with what he said in the coach about the Confederate soldiers coming after him for the bounty, but it was almost too perfect. And we know Warren is capable of saying the right thing to people to catch them off guard and get what he wants. So maybe his story is just a story. When the General says "If he did what he went there to do, he'd have come home" it's easy to assume he meant that he went to kill Warren. But it doesn't exactly fit with the small show of respect the men give each other right before Warren tells the story.
Did you wonder about that at all?
Scott: I definitely wondered whether Major Warren's story was made up. He could have told that story just to upset the General as much as he could because he hates the man, or he could have told it to provoke the General into pulling his gun so he could have an excuse to shoot him. Even that small show of respect they share, how much of that was feigned by Warren to give him the excuse to get close to the General to tell that story? And what the nature of the job the General's son had in Wyoming was a mystery to me. Could have been he went to kill Warren or maybe something entirely unrelated. There are indeed a lot of little mysteries within the movie.
Thinking about it now though, this whole aspect of characters who say they are something but may in fact be something else. Maybe what Tarantino's getting at is the whole idea of self-invention. I mean, that is an idea so central to the whole US character and identity. In this country, supposedly, with all its fluidity, you can be what you want if you play the role and set your mind to it. It's the frontier, and if you go someplace new in the country, you can be someone new. Tim Roth's character sure does sound like a knowledgeable hangman and Mannix is or would like to be sheriff and Warren claims he secured a letter from Lincoln himself. American self-mythologizing and reinvention of self. In that way, by showing all these freewheeling unapologetic tall tale tellers, maybe the movie actually contains more optimism than is apparent on the surface.
Renee: Ah, that is a great point. Tarantino said something in an interview I saw awhile back about how he's really writing about deeper themes in all of his films, but he does it through a totally different lens that what we might consider a "deep" movie. I think there's a case for the movie being about re-invention and self-mythologizing, for sure. That's especially interesting when paired with the point you made early on about the "alternate history" movies in his oeuvre being about revenge and creating a better (or at least more just) past.
Though, if everyone is putting forward what they want to be, rather than what they are, it does raise some interesting questions about Joe Gage's book and his relationship with his mother!
Speaking of family, Daisy's only real shows of emotion are directed at Jody (Channing Tatum). Another amazing piece of acting by Jennifer Jason Leigh, the look on her face when she realizes he's there says so much. We see a lot of sibling pairs in fiction and film, but it tends to be same sex pairs. There was something really amazing about how much was implied about their relationship in such a short timeframe.
There is some optimism, or at least some depth, in that as well.
You might have inadvertently convinced me that this was a "feel good" movie.
Scott: Haha. Tarantino's very violent, obscenity-laced feel good epic. That's as good a way as I can think of to describe this movie as we wrap up.