By
Steve Weddle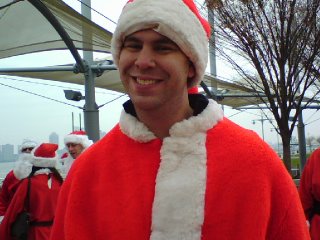 So there's this NEXT BIG THING meme going around in which authors tag each other (heh) with ten questions. Since Dave White is out today and my answers are set for tomorrow, I figured I'd answer for Dave today. You're welcome, big fella.
1) What is the working title of your next book?
RUTGERS IPA, PI
2) Where did the idea come from?
I was emailing with Sarah Weinman and Jason Pinter one night and we decided it would be neat.
3) What genre does your book fall under?
Mystery/Thriller/College Romance/Craft Beer/Noir
4) What actors would you choose to play the part of your characters in a movie rendition?
I picture a young James Gandolfini (Rutgers, 83) for the lead and Calista Flockhart (Rutgers, 88) as the love interest.
5) What is the one-sentence synopsis of your book?
When an assistant basketball coach discovers a new recipe for India Pale Ale worth killing for, his life turns into one big fast break of terror.
6) Will your book be self-published or represented by an agency?
Whether it's independently published or one of the major offerings from a big house, I hope people enjoy reading it.
7) How long did it take you to write the first draft?
Well, I've been thinking about some of the aspects of the novel for a long time. The actual sitting down and writing has been about a year so far.
8) What other books would you compare this story to within your genre?
It's a bit like a Spenser novel. One of the good ones.
9) Who or what inspired you to write this book?
To be honest, it was
DSD's own Steve Weddle
. Hearing him go on and on about writing is kind of like seeing an eighth grader try to dunk a basketball. At some point, you just want to show the kid how it's done.
10) What else about the book might pique the reader's interest?
I've created Twitter accounts for all the characters and the last page of the novel will be a recipe for the craft beer featured in the story.