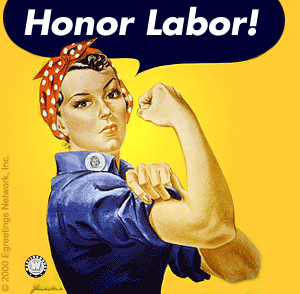 By Steve Weddle
Today is Labor Day, the day we set aside to honour the recent contribution to letters made by Tony Blair, former prime minister of the Britains.
Hahaha. Yeah. It's the day we in the colonies set aside to let our work pile up in order to make Tuesday the Following more of a hell.
So you're not supposed to do work on Labor Day. But the Pharisees said I could work on Labor Day if I pull my ox out of the ditch.
And speaking of work and reading and writing, here's something you can help me with -- um, with which you can help me, Mr Prime Minister.
You know when you finish a novel and then lean back in your chair as you set the book aside? That perfect moment in which you savor the moment of completion? The beginning of that opportunity, that beautiful land of openness in which you can now read whatever book you want. That moment, that's what makes life worth living, isn't it? Kinda like when you started a new year at school and you had all your notebooks and you hadn't messed them up with IRON MAIDEN RULES pen-carved into the covers.
The brightness of possibility.
That's why I love reading. I can pick up someone I've never read and find out why everyone loves this writer. I can hit the latest cool thing and join in on the discussion. I can crack open some Chekov I haven't read before and find out what really happened on the Starship Enterprise.
And then, every so often, the pain comes. That awful moment when you realize the book is crap. That you like this and that, but can't stand such-and-such. And you have to decide whether it's worth it to read the book.
The first 100 pages of DRAGON TATTOO, for example.
The first day on the job, the finding where the doughnuts are kept, the fresh office supplies -- suddenly this becomes work.
What do you do then?
Whether it's reading or writing, at some point, sometimes this becomes work. Maybe it's when the publisher sends the edits back. Maybe it's book tours. Maybe it's plotting.
For readers, maybe the first thirty pages are work for you. Maybe starting a book is tough. Or maybe it's getting lost in all the characters.
When does the book -- whether reading or writing -- become work for you? Does it happen often or rarely?
For me, hand-writing ideas is never work. I like to scrawl out thoughts and characters and dialogue on paper. When it becomes work is when I have to move one scene to the next, when I have to accomplish all I wanted to. When I have to get all the little pieces to meet, like a jigsaw puzzle when I don't yet have all the pieces -- or any idea what the picture is supposed to be.
And that point when I'm reading that I force myself to get to page such-and-such. Another 20 pages and if it doesn't get better, I'm giving up.
Sometimes there's nothing better than reading and writing through the holiday. And sometimes, you know, it's like pulling an ox out of a ditch.
------------
Bonus: Contest
at NEEDLE
.