By Steve Weddle
Ever since that jerk John Milton wrote
Paradise Lost
, everybody has had to fight with the idea of the villains being more interesting than the heroes.
In noir, of course, ain't nobody wearing a white hat. This guy is less bad than that guy, so he's the hero. Or, as readers, we have a better understanding of this character, so we identify with her better. Or we have seen more background for this person, so we know where he is "coming from" and root for him.
In Allan Guthrie's
Two-Way Split
everyone is a bad guy in some sense. But we follow along with Robin, Eddie, Pearce and some others understanding why they make their choices. Sure they're bad guys, but they're our bad guys.
In Charlie Huston's Hank Thompson trilogy, the former baseball player turned bad guy does plenty of nasty things, but he takes care of his neighbor's cat. So how bad could he be, really?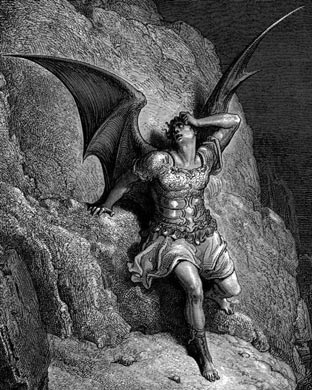 But these aren't the villains. They're bad guys. The villains are the ones who keep the main character from getting what he wants or the folks who take something away from her. The villains work as obstacle, as conflict.
In one of the dozen or so James Lee Burke books I've read, there's a villain who drips evil the way my stumbling Uncle Danny drips Jim Beam, in huge, unmanageable stains. The guy gets to Dave Robicheaux's family, threatening and finally hurting his loved ones. If you're charting this stuff out at home, this is on the other side of Hank Thompson, Huston's bad guy who takes care of a cat.
You can rob a bank, but if you stop during the getaway to help an old lady cross the street, you're a good guy who is doing some bad stuff. If you're the villain and you kill a couple of tellers in the shoot-out, well, that's what villains do. But if you move beyond the job into something personal, maybe you see a family photo behind the teller and threaten his newborn child if he doesn't hand over the cash, then you're an evil bastard. You've crossed a line. Your "badness" isn't contained to your job. Your badness has extended, like a stain that keeps spreading, the edges that keep creeping to the walls. An evil that threatens to take over. Something beyond our understanding. An evil that is bigger than we can contain.
And I think that's part of what makes a villain different from a bad guy, that terror we can't see, that evil we can't quite hold.
We don't need to know all the answers to what makes the villain a bad guy. We don't need to understand him. We need to fear him. The monsters in the movie
Alien
are scarier when we can't see them, when they are just teeth in the shadows.
When we understand the devil we can identify with him. And when we can't understand him, when there's something dark and twisted and evil that keeps him chasing us through the hallways of our house at three in the morning, all we can do is run.